TriMet and Google are teaming up again to bring real-time transit information to riders. The new feature will utilize Google Bluetooth Beacons installed at TriMet's 87 MAX light rail station platforms. They will be integrated with Google Maps seamlessly to automatically provide "…information that is valuable to riders, including transit schedules and alerts…"* directly to your mobile device, but is that all they will do in the future? Before we talk about the future let's talk about how this new feature will work.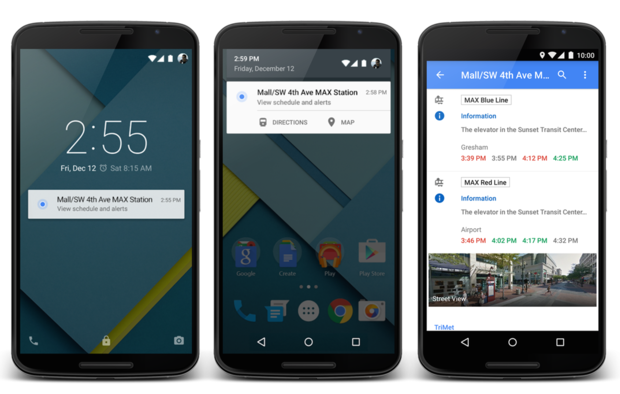 How It Works
The Bluetooth beacon will automatically connect with your Bluetooth-enabled wireless device (smartphone or tablet). When you arrive at or near a station, an alert with the station name will pop up on your home screen. All you have to do is tap the notification and you will instantly receive detailed arrival information about approaching trains and hopefully they'll add other TriMet route information for buses or WES Commuter Rail trains too. Now that we know what they say it will do, let's talk about what it could do in the future.
More Than Just Transportation Info
This feature may help some riders with their commute but it's hard to say since the MAX light rail system is already one of the most reliable forms of public transportation provided by TriMet. It's not without problems, but they don't happen often and usually only come during extreme hot or cold temperatures or when there is an emergency such as accidents. So what else could we expect from this? I believe that we are going to see proximity ads being delivered through this system, or one like it, in the not so distant future. If you think about it for a second, it makes sense too. Millions of people use TriMet every year and they are traveling on routes which make it perfect for a proximity marketing campaign. How awesome would it be to ride MAX down to Portland Saturday Market, and when you get off you instantly have an ad with a coupon for Elephant Ears, T-Shirts or Jewelry that's handcrafted right here in Portland, Oregon? I'd say that's pretty awesome in my book. To help understand what's possible with Bluetooth beacons, let's talk about what they are and how they work.
What are Bluetooth Beacons?
Bluetooth beacons are used to provide location based information directly to your mobile devices. They transmit a signal from the beacon to compatible devices in the area using Bluetooth technology. Also known as Bluetooth low-energy (BLE), this technology is designed to have a significantly lower energy drain on your device.* The beacons can be used to discover devices, query for services, and even deliver location based advertisements such as proximity ads. In this case, the beacons are supposed to transmit useful real-time transit information, but I think we all know it's only a matter of time before we start seeing proximity ads as well.
Why is TriMet Perfect for Proximity Marketing?
For proximity marketing to work you need enough people in a general location who understand technology and are not afraid of using it. Well, TriMet already provides about 100 million rides annually in the Portland, Oregon metro area so that covers the people requirement. Plus they have a ticket app., made here locally by GlobeSherpa, that has already processed over one million TriMet tickets sales and has more than 82,610 downloads as of April of 2014.* That covers the technology requirement too. Even TriMet officials agree that their riders can cope with new technology stating that "Our riders are very tech savvy…" in a recent press release on their website. With the general requirements met to run successful proximity marketing campaigns, it only makes sense that will be coming soon.

How to Turn Off Location Notifications
Turning off location notifications for Google Maps is fairly easy. If you decide to turn off location notifications, you won't see any information about businesses or locations that you're visiting or are near you. However, I want to see proximity information and ads so I choose leave mine on, but if you disagree, here's how to turn if off.*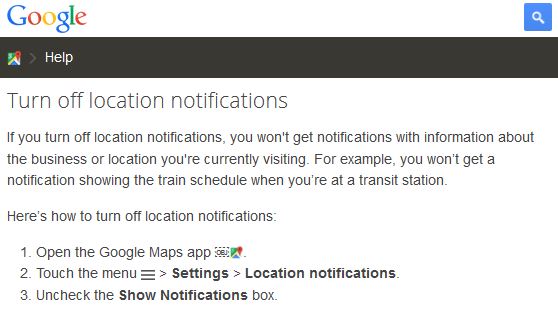 Final Thoughts
Obviously I come from a marketing background so I look at things from that perspective. Companies like Google and Facebook are driven by creating good user experiences to attract more people so they can eventually get more advertising dollars. Plus there are several huge tech company mergers and acquisitions that have recently happened or are happening now as we speak that pertain to proximity marketing, so I can see this unfolding a mile away. It's clear to me that we are rapidly approaching the day when millions of dollars will be dumped into proximity PPC marketing ads and these kind of changes put us that much closer. I recently wrote an article predicting Facebook's proximity marketing roll-out and this is no different. I predict that we will see more changes that move us closer and closer to the day when proximity ads are the norm. Until then, thanks for reading.
Stay tuned for more updates.
*GlobeSherpa 1 Million TriMet Ticket Sales
*How to turn off location notifications.
Tags: Bluetooth Beacons, Google, Proximity Marketing, TriMet