Facebook is about to take the proximity marketing industry by storm. Facebook has been slowly launching their latest feature called Place Tips in select areas. Facebook Place Tips will appear at the top of your News Feed and is designed to enhance your experience at the places you visit. Yes it will do that, but that's only half the story. The majority of media outlets are publishing articles with various titles such as "Facebook to compete with Yelp" or "Facebook v.s. Yep" because the feature will provide reviews of businesses. However, there's a lot more going on here behind the scenes than just location reviews. First off, let's talk about what Facebook Place Tips will do initially before we dive into Facebook proximity marketing.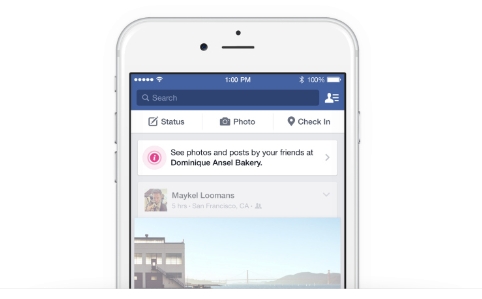 What is Facebook Place Tips?
Facebook Place Tips will provide more information about the locations you visit including your friends' photos and posts, reviews, posts made by the location page and upcoming events, even menu items. This new feature will automatically appear at the top of your Facebook News Feed when you're at popular locations or businesses such as restaurants, shops and landmarks. It is currently being tested in areas with high activity such as New York City and right now it's only available on the Facebook app. for iOS.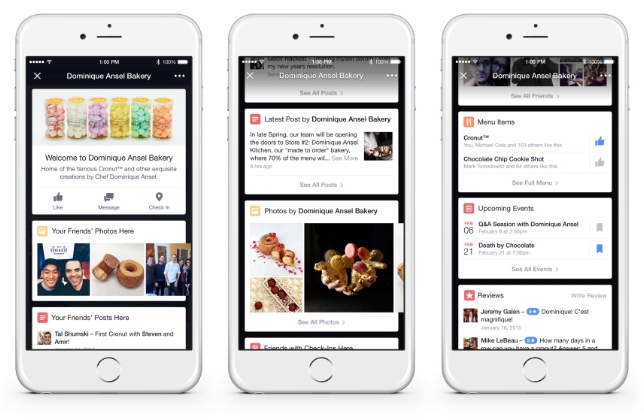 How Does Facebook Place Tips Work?
This new feature will show you information based on your location. Your location is determined using your cell phone networks, your phone's GPS signal, Wi-Fi connections, and Facebook Bluetooth® beacons.
What are Facebook Bluetooth® Beacons?
Facebook Beacons are small devices that transmit a signal from businesses to the Facebook app on your phone using Bluetooth® technology. According to Facebook, the beacons are designed to "help us show you the right place tips,"* but I think we all know that the use of Facebook Bluetooth® beacons will not stop there. That's where proximity marketing comes in.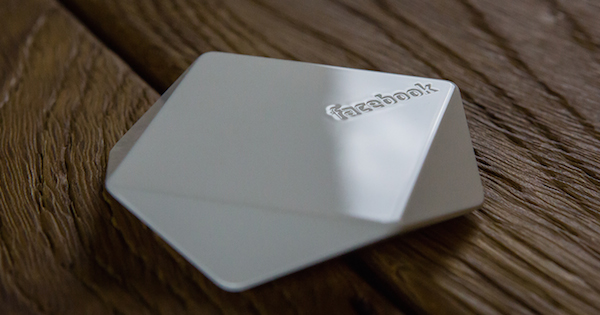 What is Proximity Marketing?
Proximity marketing is defined as "the localized wireless distribution of advertising content associated with a particular place." The definition continues on to say that the proximity marketing ad transmissions are sent to people near a location "who wish to receive them and have the necessary equipment to do so."* Basically, this means if you have opted-in to a proximity ad network, you will see ads from businesses that are near you. Proximity marketing is not a new concept, but it has not become extremely popular because the wireless technology had not evolved far enough and it's been harder than expected to get people to opt-in and agree to receive proximity ads.
Facebook's Proximity Marketing Tool
Today, almost everyone is carrying a smartphone with GPS capabilities and Facebook is taking advantage of that fact by launching this new feature with an auto opt-in. This means you've already agreed to receive proximity ads, you just don't know it yet. Place Tips is Facebook's covert way of getting the masses comfortable with seeing more location specific information and it's the precursor to the largest proximity marketing ad network push we've ever seen. Let's face it, seeing ads based on your location can be a bit unnerving because in order to serve proximity ads, a business would have to know your location. That might scare some people, but with Facebook Place Tips auto opt-in, you've already agreed to it. It's actually quite genius if you think about it, they are using Place Tips to help you get more comfortable with seeing location based information. If Facebook releases these features and tools periodically as more people get used to location based content, it could be very effective.
Facebook vs Yelp
Everyone is jumping on the "Facebook vs. Yelp" bandwagon because of the business review section integrated in this new feature, but as you can see, there is a lot more going on than that. Besides, most people who use Yelp use Facebook and many of them have their accounts synced so reviews or check-ins are published everywhere. Plus Facebook has a lot more to gain by adding proximity ads to their mobile marketing repertoire. Especially when you look at the fact Facebook passed the 1 billion monthly active mobile device user mark in Q1 of 2014.* This means when Facebook launches proximity ads, they would have largest proximity network in the world!
How to Opt-Out of Facebook Place Tips
Much like the majority of Facebook's new features, users will automatically be part of Place Tips when it officially launches nationwide whether you like it or not. This means if you don't want or like Place Tips, you have to Opt-Out. Here's how you can do that. Tap "More" and scroll down to the setting tab. Tap "Location" and then "Place Tips Settings." Then select turn Place Tips in News Feed off. That easy, but if I were you I'd leave it on and check it out first.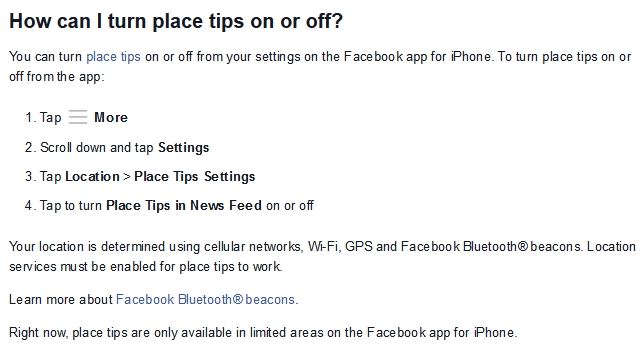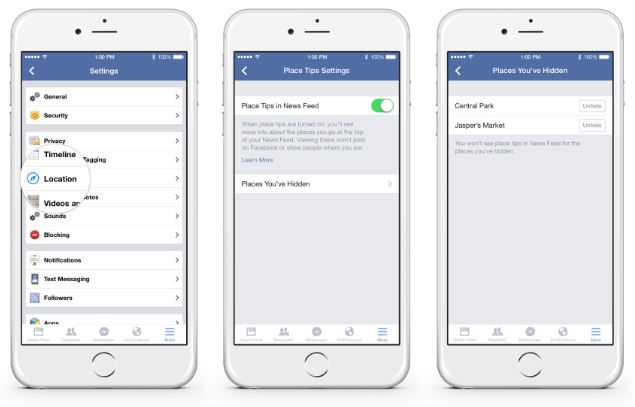 Final Thoughts
Personally, I'm excited about this new feature and I would love more proximity marketing, especially from Facebook. Why? Facebook is a place where we share so much of our lives that the possibilities are endless. In addition, Facebook proximity ads will give everyone more deals and special offers from the places we are near so we can all save more money. If this roll-out is done correctly as predicted, and marketers target customers properly, it will not be annoying. By serving Facebook proximity ads through Place Tips using demographic targeting, we can expect to see proximity ads that we like and content that is relevant to us. These new developments could also be a game changer for small businesses too. Especially ones that are just off the beaten path. Very soon, great stores in locations that are easy to miss, might not get passed by as often. Foot traffic that would normally only be gained by spending thousands of dollars more on an expensive storefront could be supplemented by investing in well targeted proximity ads through Facebook Place Tips. Just imagine if every business owner who couldn't afford prime retail real estate, now had a spot on "main street" digitally. Keep an eye out for this new feature and expect to be able to take advantage of these offers coming soon. It may take some time for everything to happen, but mark my words, Facebook proximity marketing ads are coming. Until then, enjoy the official Facebook Place Tips video:

Thanks for reading and stay tuned for more updates.
*Facebook Bluetooth® beacons info.
*Proximity Marketing definition.
*Facebook passed 1 billion monthly active mobile device users in 2014.
Tags: Facebook, Facebook Beacons, Facebook Place Tips, Mobile Ads, Proximity Marketing