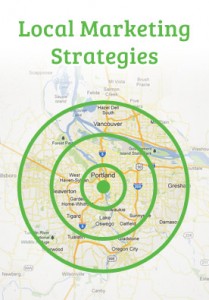 Through our many years of experience we have learned the intricate differences between a nationwide advertising campaign and a local advertising campaign. Many small businesses could greatly benefit from targeting their local market with some of the marketing tactics detailed below, but lack the knowledge in these marketing strategies to implement them successfully on their own. That's where we step in. We are capable of managing and optimizing any PPC campaign to maximize your advertising dollars. But that's not the only way to improve your local marketing efforts. Please read the information below or contact us directly to learn more about how we can help your small business' local marketing campaign.
PPC
Pay Per Click advertising is one of the easiest ways to get more visitors to your website. Thanks to the tools provided by major platforms such as Google, Yahoo, and Bing, we are able to create a PPC campaign that targets only your local service area. This cuts down on wasteful spending by making sure that only potential customers are targeted with advertisements. We are also very experienced in finding additional keywords that may have less competition, and therefore cost less money to advertise on. There are many other ways to improve efficiency and lower costs on PPC campaigns such as improving the quality of content on your website and improving your social networking presence.
SEO
There are many ways to improve the content on your website and coordinate those efforts with your social networking efforts to improve rankings on search engines in your local market. Keeping in mind that many people perform searches with cities and states included this can help to create good quality content on your website while optimizing for local area search phrases as well. Our website is a great example of this. We currently rank very well on search engines for phrases like "Online Advertising Agency". That's wonderful, however, many individuals search phrases like "Portland Advertising Agency" or "Advertising Agency Portland, Oregon". To capitalize on these local phrases we have developed content for our website that includes variants of those keywords.
User Review Websites
User Review Websites are great for a number of reasons. They allow you to feature your business information (including a link to your site) on a website that is relevant to your industry and area. This helps your local SEO campaign while also allowing for users to write reviews and rate your business. If you are committed to a high level of customer service & satisfaction you should have a lot of happy customers to fill out reviews on these sites. There are a lot of ways to create incentives for customers to fill out reviews after having a good experience with your business. For more information, we recently published a blog post on this topic.
Facebook & Google Plus
Much like user review websites, Facebook and Google Plus function as a medium to communicate on a social level with customers. Interacting on these sites on a regular basis can be very beneficial in a local market. These are also great sites to include coupons and to promote sales, specials and any other significant offering.
Social Networking
Whether you are using websites like Facebook & Google Plus or other social networks such as Twitter, Pinterest, or LinkedIn, it can be beneficial to be active on these networks. Setting up a profile and leaving it to rot will not help in your local marketing campaign much. If you can choose a few websites to participate on, and try to be fairly consistent with your posting schedule it can yield a number of positive benefits for your business.
Print Marketing
Total Market Exposure employs the talents of skilled designers, programmers, and advertising veterans to best serve our clients. Located in Portland, Oregon we have had many clients in our local market. Our own local marketing strategy has yielded several long lasting relationships with clients. Through the years we have grown to be one of the premier Portland Advertising Agencies and we have expanded outside of our local market, offering nationwide online marketing & advertising services as well as local marketing services in markets all across the United States and Canada. Through it all, we are still extremely dedicated to providing the best possible online marketing & advertising services to our clients here in the Portland, Oregon metro area. Thanks for reading, we hope you found the information to be informative and helpful in some way. If you have any questions or if you are interested in hiring us to help improve your local marketing campaign, please feel free to give us a call at 1-877-340-6319.
Tags: Local Marketing, Oregon, Portland Advertising Agency, Portland SEO, Website Design