Google is updating their search algorithm again on April 21, 2015 and mobile optimization will become a lot more important. The new update will expand their mobile-friendliness ranking signal to affect mobile searches in all languages worldwide and "will have a significant impact in our search results."* This means you may see a dramatic decrease in rankings if you do not have a mobile friendly website. For those of you who have already been focusing on mobile optimization, responsiveness, created a mobile version of their site, or developed a mobile-friendly website, you're about to reap the benefits.
Users Win
As a user, this is great news because search results will now feature more mobile-friendly results. This means you will experience faster load-times overall and enjoy more well organized sites as you peruse the inter-webs. Personally, I'm excited about this because I perform a lot of searches with mobile devices and I hate clicking on search results that don't load quickly or are not easy to navigate due to their lack of mobile friendliness.
Mobile-Friendly Test Tool
Google provides several tools to the public and to developers to test whether their website is mobile friendly or not. Here is what Google's Mobile-Friendly test results look like for our website: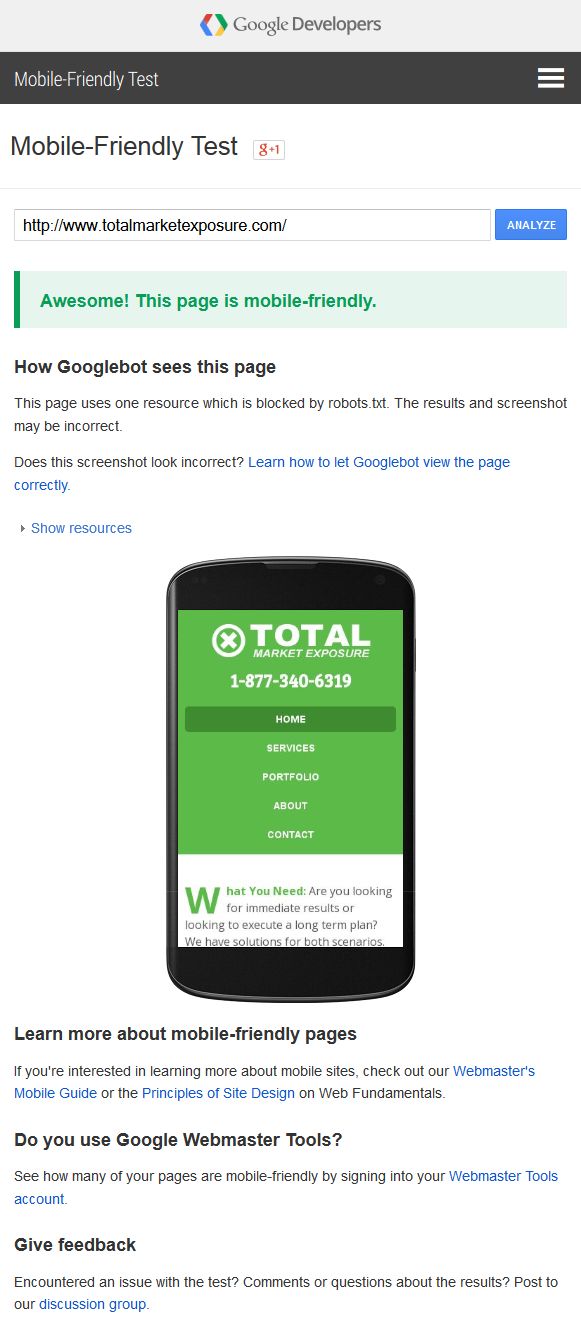 Test Your Website
It doesn't cost any money to test your own website and it's very easy. Here is a link to the Google Webmaster Mobile-Friendly Test tool so you can test it yourself and here is what that looks like. Simply go to the tool, enter your web page URL and click analyze for the results.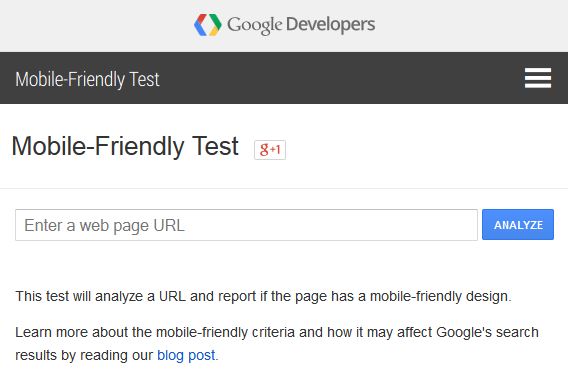 Final Thoughts
If you're website is mobile-friendly then you should be OK, but if it's not, you may not like what is about to happen after the update and you may want to think about fixing that ASAP. Here's a link to the Google Developers Mobile Guide to help you out. Let us know what your results are and if you would like assistance we'll perform a no obligation consultation over the phone to see if we can make any improvements to your website. At Total Market Exposure, every website we develop is mobile-friendly and we can also update existing websites to be responsive or comply with today's mobile standards. So if you don't like the results of your test, give us a call.
Thanks for reading, we hope this information was helpful. If you have any further questions about mobile-friendly web design or responsiveness, please give us a call at 1-877-340-6319, we would love to talk to you.
Source:
Google Mobile-Friendly Algorithm Update Press Release
Resources:
Definition of Responsiveness
Google Webmaster Mobile-Friendly Test tool
Google Developers Mobile Guide
Tags: Developers, Google, Mobile Friendly, Responsive Web Design, Responsiveness, Test, Webmaster Tools