Meisel Rock Products has over 50 years of industry experience and is a major provider of crushed rock, sand and gravel for construction and landscaping in Oregon. They are made up of a highly trained team of professionals. They supply rock products to clients big and small, from backyards to superhighways. When we came into the picture their existing website was informative but very plain. There were numerous issues with the site structure and there was very little in the way of Search Engine Optimization done on site or off site. Throughout the design process we made sure to incorporate design elements that would improve the appearance of the website without detracting from the clean look that we both wanted to achieve.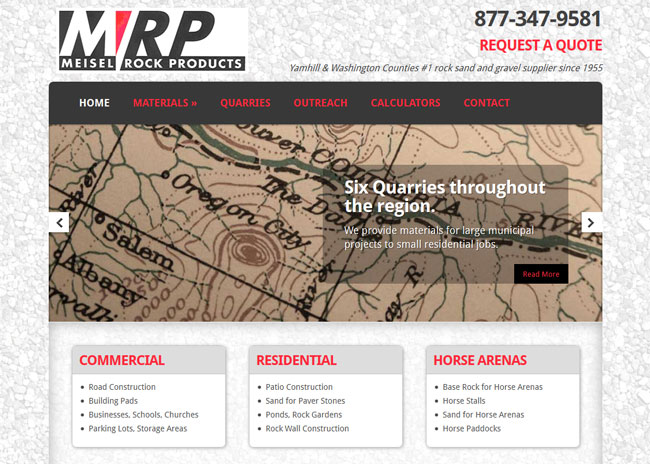 In addition to redesigning the website we took into consideration many aspects of Search Engine Optimization to ensure that the website was built for success on search engines. We used proper title tags and meta descriptions and designed the website for optimal load speed and user experience. In addition we also generated optimized content about their products, services and locations. By providing in depth information the website has become an authority on gravel, sand and crushed rock providers in Oregon. Meisel Rock Products has been around since 1955 and now with their new website they are sure to be a fixture in Oregon for many years to come. Take a look at some of the other pages on their new website by visiting their website (meiselrockproducts.com) or by viewing the gallery below.
---
Our team of Oregon Web Designers are dedicated to providing the best quality premium website design and development for our clients in Oregon as well as all across the nation. Based out of Portland, Oregon we employ experienced and talented designers and programmers. Contact us today to learn more about our Portland Web Design services.