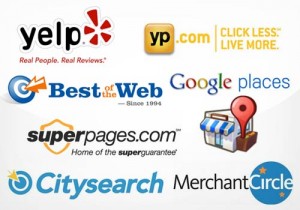 One major factor in Local SEO is business information verification. By listing your business on local directories and user review websites like City Search, Yelp and Best of the Web you are verifying your business information. This helps to build trust with search engines and by using N.A.P. (Name, Address, Phone) format consistently you further solidify your presence as a real business in a real city with real customers. Trust is a major factor for search engines and being able to verify that you are real goes a long way with local SEO.
Example of N.A.P. format: Builders Inc. 555 SW Anonymous St Portland, OR 97205
Make sure that the information is also listed on your website in the same format. It may require a good deal of work getting all of your listings to match up but it is worth it. If you change locations or phone numbers this can be a lot of work. We understand, that is why we provide these services to our clients. Because you don't always have the time to take care of your SEO, that's we're here for. Keeping track of all your passwords and the locations of all your listings is very important if you ever need to change them all.
How Do I Find Local Directories?
First and foremost you want to go to all of the user review websites that are used locally. A user review website is a site that is established with the purpose of giving a voice to the customer. As I am sure you are familiar, the power of word of mouth is strong and thus, many websites are designed to extract the opinions of businesses from their customers. Yelp, City Search, Best of the Web, Google Places, Super Pages, Yellow Pages and Hot Frog are just a few. Most of these sites require phone or mail verification to further authenticate the validity of the listing. Another great resource is getlisted.org which allows you to see how the search engines view your business in relation to citations in local directories. There are also other extremely valuable tools on this site such as a page that allows you to view the top citation sources by city and the Top citation sources by industry. You can actually pinpoint where other companies are being listed in your area and your industry. This can be very helpful in dominating a competitive market.
Another amazing tool for finding local directories for acquiring citations is the SEOmoz Open Site Explorer. By imputing your competitors website into this tool you can track their links to potentially find new citations to acquire for your own website.
Thanks for reading, if you have any questions please feel free to ask. Visit our blog for more information about Local SEO Tactics from Total Market Exposure a top rated Portland SEO Agency.
Tags: Citations, Link Building, SEO, User Review