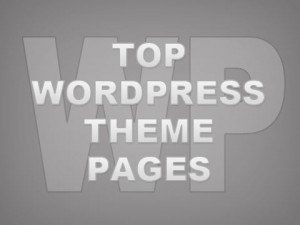 WordPress has an excellent built-in theme system, which allows you to switch your sites look on the fly without affecting all of your previously created content. You don't lose all your old pages and posts when you switch a theme and there are thousands of pre-built ones for you to choose from should you not want to design your own. Like most choices, the site you get your theme from comes down to preference. We have found the below themes sites to by the most helpful and to have the best content and layouts available. Check them out and decide for yourselves. Regardless of what you are looking for, we are confident that you will find it from one of these WordPress theme sites.

WordPress themselves provide a Free Themes Directory with currently over 1,200 themes, and a download count of over 16 million. They also have a Commercial section still under the GPL of pay-sites that often have added features. The directory has a sidebar featuring the most popular, the newest and the most recently updated themes as well.

Best WordPress Themes has an extremely clean and efficient interface that, feature easy to understand Navigation bars listing Free and Premium (Pay) themes. Both are easily navigable for finding style layouts and categories. All themes featured are hand-picked by the administrator. Lack of images to break up text may be hard to read for some users, but designing like this allows for speedy loading of information.

WP-Mojo is a WordPress theme site that is more image-heavy, and features thumbnail previews of themes that are user-rateable and show pricing next to the images. It also has easy to use drop-down menus for categories, providers and styles. Their blog features related articles as well as them reviews.

WordPress Themes Base combines clean a interface with simple thumbnails and user ratings. The Sidebar has a simple Category list with the number of themes in the category in parenthesis. There is also a top bar where you can choose to view the latest, best, most downloaded, most viewed and top rated themes. Individual themes have a view and download button.

Top WP Themes is another user-rateable WordPress themes site that allows previews and comments. Their sidebars are a little busy, but provide a category list and latest themes list in addition to links sending you to related resource sites.

SoloStream is a web media company providing in-house themes for businesses. These are pay themes that feature free updates and lots of tech support. They are an established company with a long list of clients. SoloStream could be an excellent choice for your business-centric site or blog.

Blog Oh! Blog is an India-based blog and WordPress theme site, which features both Free and Premium themes as well as a full complement of internet and web development services. Like many of the others a category browser and search feature makes finding a theme quite easy.
These sites often function as directories for WordPress templates and website designers. Web design directories offer end users an opportunity to choose from a number of reputable businesses or freelance designers within a given area. They make it really easy to shop around for the right WordPress theme and also for a good designer for logos, graphic design, website development and much more. We hope you found this helpful, thanks for reading.
Tags: Commerical Wordpress Themes, Free Wordpress Themes, Sites For Wordpress Themes, Wordpress Theme Sites