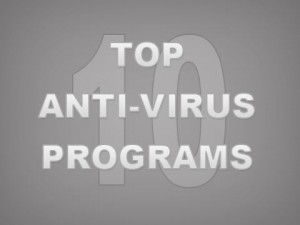 The web can be a dangerous environment for your computer. There are so many types of viruses, malware, worms, trojans and other back-doors all waiting to take the unsuspecting user unawares. Without some combination of anti-virus, anti-spyware or firewall you computer has no chance against the hidden evils of the internet. A good place to start is one of the many anti-virus programs. At their base, they carry out similar tasks, but not all anti-virus software is created equal. We have done a little research for you and present the top 10 anti-virus programs we have found based on popularity and features. Here they are:

Norton Anti-Virus
Norton has been a leader and innovator in the computer software industry for decades. One of their flagship products has been Norton Anti-Virus, as they were one of the first companies to produce such software. In the recent past, Norton has endured some criticism for what many consider to be a "bloated installation." The program was taking up a significant amount of CPU resources and hard-drive space, and often required additional programs the user may not be interested in. Their 2010 release has addressed most of these complaints; it is much sleeker install and easier on the resources. Their advance heuristics algorithms continue to be a leader in early detection of emerging viruses.




Eset NOD32
Eset NOD32 does contain the full compliment of security protections that their Smart Security Suite does, but the features that it provides for are very comparable to other industry-standard anti-virus programs. The software is easy to install and get started with. Most standard options are pre-configured for you, and setting the program up to schedule manual scans is a really simple process. Schedule tasks can be set for background work if you wish. NOD32 also allows you to create a boot-able emergency setup on a USB drive for those particularly nasty viruses which take over your system files and portions of your internal hard-drives.





Trend Micro Anti-Virus
Trend Micro pairs it's anti-virus software with anti-spyware. You may have heard of this product called PC-cillin (a take on the medicine penicillin) in the past. This is a solid desktop virus and spyware removal package. It's easy to use and a good choice for basic security measures on your system. Spyware removal is a nice addition, that offsets the lack of some extra features found with other packages. It has pro-active settings and real-time protection as would be expected. Updates are also automatic should you choose them (and we recommend that you do.) Trend could use some advanced heuristics work and some better features for internet protection as well.



BitDefender
Viruses and other nasties on the web have continued to evolve and so have the tools that BitDefender use to protect your computer from them. BitDefender has set-it-and-forget-it features that most users are looking for, yet is flexible enough for advanced users to control manually as wanted or needed. Bitdefender has a wide variety of features and functions to match all kinds of user setups. BitDefender does make use of advanced heuristics protocols and also tout their Active Virus Control feature continuously monitors application resources to snuff out those sneaky malware attacks. It can then lock down the offending apps, a very handy feature indeed.





Kaspersky
Another premiere anti-virus software, Kaspersky has all of the features you would expect or need in a high-performing and quality anti-virus software package. They also offer a complete Internet Security Suite for those that are looking for a more comprehensive security solution. The user interface is easy to understand and software itself is easy to install. There are plenty of advanced options for those who want more control of their software. Kaspersky's strongest point, according to users, is it's tech support, which is completely free chat and e-mail support. It is price slightly above the average for similar products, but this is offset by containing licenses for 3 machines right out of the box and very affordable additional licenses.





Panda Anti-Virus
Panda is definitely a competitor in the anti-virus software industry. Not only content to combat viruses, Panda had added features to enhance your digital and online security. It has identity theft and online fraud protection features. It also makes use of advanced heuristics analyzing procedures like many of the leading virus programs do. Panda doesn't really corner the market in any feature, but does all of them fairly well. It has a fairly small imprint on your system and is light on your resources. It also easy to run and configure.





AVG Anti-Virus
AVG has been in the virus protection game for a long time, and has gained a large following. Most of their user-base are current or former users of the free version of their software. AVG Free! Can still be found on many systems today, and is a great way to test out the program. It features only a small portion of the commercial version of the software, but it's virus database is still continually updated offering a fair amount of protection. The pay version interfaces directly with your browser and web software, analyzing pages before they are loaded to discover potential threats or sites deemed as hostile to your system. This can be invaluable to the protection of your machine.





McAfee Anti-Virus Pro
McAfee is another name on the most senior list of anti-virus and security softwares. It too has been around for decades, a big competitor with Norton. It has a solid reputation in both the personal and corporate worlds. With an extremely simple and easy-to-use interface, and enhanced and updated real-time protection strategies, McAfee has vaulted back into the conversation for best Anti-Virus software packages. Additionally, McAfee now includes a small firewall program, which is only to your benefit as you combat the dangers of the internet.





Zone Alarm
Zonelabs' Zone Alarm was one of the first to offer a full security suite with complex firewall, and a smaller, much-simpler version of said suite for free as well. Zone Alarm covers the gamut of security features, including: keylogger jamming, two-way firewalls, free credit bureau monitoring, a virtual browser that self-contains your browsing experience, hidden away from intrusions and viruses and browsing privacy features like track-surfing and cookie-erasing for the maximum amount of user-privacy.



AVAST!
AVAST! is an excellent choice for basic protection. You can feel safe with AVAST! as it has been certified by all the best names in virus software testing. Although basic it has a fair amount of features. The program has a very small hard drive and memory footprint due to it's small feature-set. There are some complaints as far as tech-support, and it may not have all of the features you require, making the price-tag seem somewhat high. You may want to go with one of the other listed software should this not have what you are looking for, but as always it is up to user preference and budget.
These are only a few, be sure to give the others like, F-Secure, G-Data, Avira, F-PROT or Comodo a look. Each may have a unique or specific function or interface that you may prefer. Be sure to combine your choice of Anti-Virus with a firewall or additional Spyware, Malware or Trojan detection software as is needed. You can never be too safe with your personal data.
Tags: Anti-Virus, Anti-Virus Application, Anti-Virus Program, anti-virus software, Antivirus