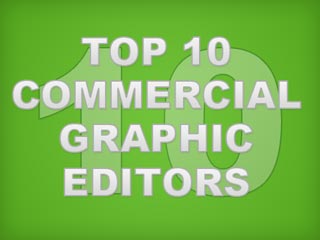 There are many pieces of software out there to meet the needs of creative professionals and amateurs/hobbyists. It comes down to budget and preference. We recommend making use of trial/demo software and attending industry conferences or product demonstrations whenever possible to see what all is out there as there are so very many graphic editing applications and graphic editing tools. The industry for artistic professionals is an innovative one and so to is the software business that drives it. There are plenty of other worthy tools out there, so even though we have done a lot of research for you, some additional detective work on your own can only be beneficial.

Photoshop is an application for editing graphics published by Adobe Systems. Photoshop is by far the most popular graphic editing software on the market and as such the native PSD format is support by many other pieces of software including many competitor apps. The format also encompasses support for most major processing options, including, masks, alpha channel and clipping paths. It also can be purchased as part of the Adobe Suite resulting in a discount of sorts. For the budget-conscious, Corel's PaintShop Pro may be an alternative for your graphic editing needs, as it handles a fair amount of the same functions at a lower cost.

Maya is the standard 3D package for most major film and television productions digital work. It handles modeling, animation, simulations, rendering and much more. Many game studios and architectural and design firms also make use of the software. The built-in scripting language (MEL) as well as the ability to use python scripting and custom tools and toolbars with C++ allow end users to customize and enhance their experience with the powerful 3d graphic editing software. It shares many of the characteristics with former competitor and now complementary/alternative program 3DS Max.

3DS Max is the modeling, animation and rendering package often considered the most widely used for the gaming industry, though much like Maya it can be used anywhere that 3D Graphics are needed. Again the interface is extremely customizable with the system scripting language. Most major game engines have readily available plug-ins for importing assets from 3DS Max. The choice between Max and Maya now essentially comes down to preference of interface as both are owned and maintained by Autodesk. For many industry professionals it is crucial to know both graphic editing programs.

Illustrator is the industry-leading vector graphics editing software from Adobe. Vector graphics are extremely beneficial when it comes to design for traditional print in addition to web design and prototyping. Most logos and materials to be distributed by businesses have benefited from the tool-set that Illustrator provides. There is simply no better option for vector graphic editing software on the market, as Illustrator has been since 1986, and continues to refine and innovate. Again if budget is a factor, consider the suite as more cost-effective or give Corel Draw a look for basic work.

Final Cut Pro is the standard for non-linear editing software, originally designed by Macromedia and now under the Apple umbrella of products. It's intuitive and feature-rich interface have lead it to attaining a nearly 50% market-share among all United States professional editors. The numbers speak for themselves, and perhaps if it weren't for the one downfall of the software the market-share would be even higher. Final Cut is exclusive to Mac OSes at this point and for the foreseeable future. For the PC user the combination of Adobe's Premiere and After Effect can get the job done, but may not provide the same experience as Final Cut Pro does for video graphic editing.

Zbrush and Mudbox currently share portions of the market in 3D sculpting packages. Zbrush has a larger user-base, but that may be because it has existed several years longer. Mudbox benefits from a user-interface that is much easier to use and more familiar to users of the major 3D packages, however Zbrush trumps Mudbox as far as functionality at this point. These sculpting packages allow users to add microscopic details and create normal maps with projected detail at polygon counts that game engines could not other-wise handle or would be impractical for lower budget machines or projects. Pair the normal maps and texture maps created with these pieces of software along with a strong raster graphic editing program and you are set to produce amazing images.

Flash is another program developed by Macromedia that has since moved on to another company. Now an Adobe product, Flash has essentially cornered the market for Internet animation, videos and gaming. There are some products both commercial and free that can do some of the things Flash does, but none of them do all that it can do or as well. Macromedia's ActionScript code-base (very similar to C++, including OOP) allows for the development of complex games, apps, animations and multimedia interfaces for websites. It is so widely used that the codecs that display Flash content on computers are estimated to be installed on nearly 99% of all desktop computer systems. Flash is where it's at for animated graphic editing, web-based game graphic editing and video graphics.

Painter by Corel is a digital graphic editing software that aims to emulate traditional media creation styles, including drawing and printmaking, with, as the name implies, a focus on painting. When paired with a digital graphics tablet (such as a Wacom) it is really a virtual painting session. Painters complex brush system and algorithms produce oils, pastels, charcoal and air brushing with an authentic feel to them, right down to the texture virtual surface the user paints on. Like Photoshop, Painter also make use of a layer system that takes into account the building up of paint just as in the traditional process. Photoshop and the pay version of Dogwaffle (discussed in our free graphics app post) are alternatives, but most people will go with Painter for it's amazing emulation of real-life painting.

This spot is reserved for all the alternative and up-and-coming 3d packages. Each has their own specific niche or user-base in the market. e-On software's Vue has an emphasis on environments. Lightwave innovates with Hypervoxels for rending different types of particles. Cinema 4D is known for its procedural modeling tools. Luxology's Modo was one of the first to incorporate n-gons and 3D painting. SoftImage or XSI also from Autodesk is also big in the film industry and gaining ground in the gaming sector and was the first to make use of x64 architecture, and is currently the only package to make full-use of multi-threaded environments. There are a ton of 3D Graphic Editing packages, so research thoroughly.

Terragen is a lesser-known software to the public or pro-sumer (semi-professional) user. However it has been used for quite some time in the film industry for terrain and sky generation, animation and matte painting backgrounds. Terragen 2 went fully commercial and has added space features (stars, planets, moons) as well as the integration of foliage with the Xfrog library. Its feature set has expanded settings for water and terrain and its rendering system as always is top-notch, producing amazing and beautiful results. You've seen Terragen work without even knowing it, in many major releases, including: "The Day After Tomorrow", "The Golden Compass", and the Serious Sam series of computer games.
Don't assume that these tools will be all that you use. There are many great tools that didn't make the list. The pro version of Google SketchUp is amazing for architectural pre-visualization applications. We didn't even broach the topic of effects (FX) specific software like Houdini or RealFlow. MangaStudio or AnimeStudio are great choices for that specific art-style or for the cut-out look. Poser is a very affordable basic 3D package used by many amateurs/hobbyists and low-level freelancers. Check out everything that you can… you never know what software might become an integral part of your creative arsenal.
Tags: Best Vector Applications, Best Video Editor, Illustrator, Maya, Photoshop, Top 3D Software, Top Commerical Graphics Programs, Top Sculpting Applications, ZBrush