Where are you located? What's your phone number? Do you take reservations? Whats on your menu? In today's Internet-centric world many people opt to look up restaurants and catering companies online to find answers to these types of questions. But it doesn't end at your website, you also want to have a presence on social networks if possible. Below we have outlined online advertising and marketing techniques food services businesses such as restaurants, catering companies and bars/clubs can utilize to improve their online presence. Your website is often the first impression of your business. If it looks outdated or tacky the user will think your businesses is outdated and tacky, whether or not you make delicious food.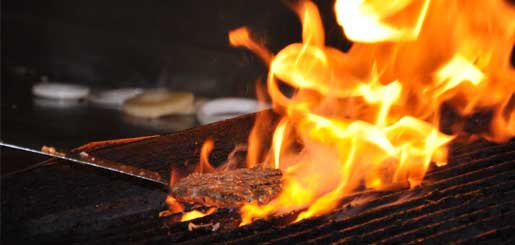 Restaurant Web Design Features
When designing a website for a restaurant or any other food service related business, there are some design features that we recommend. Firstly a good clean design is important. People correlate cleanliness to sanitation in a restaurant, this is true online as well. A cluttered website can imply a cluttered business which can turn people off. Another very important element to include in your restaurant website is quality photography. Bright, clean pictures of your establishment, the environment, and your staff can have a huge impact on the first impression of a website visitor.
The main goal of your site is to get people into your restaurant and eating your food. What better way is there to do it than showcasing your food? Adding beautiful images of your food is a great way of showcasing what your restaurant or catering service offers. Putting mouthwatering photos on your site will drive their appetite wild and provides a great way for them to focus in on particular menu items. In addition to pictures, providing a copy of the menu on your site gives the visitors a chance to see their options and check the prices. You'll often find that customers may have decided what they want to order before they even arrive at your restaurant. A good example of both of these ideas is The Aloha Grill website. Your restaurant website should also reflect they type of establishment you operate. For example, a burger joint like Frack Burger, conveys the fact that they're an everyday casual restaurant with delicious burgers and french fries. Their website screams "BURGER JOINT!" While a high end steak house might try to glamorize their website to project a different feel. The website should be a reflection of your restaurant's ambiance.
Including your phone number and address is vital for restaurants. But you can also include an embedded Google map to make it even easier for people to find your location, get directions and save/share your info with friends. On a similar note, if you have profiles on user review websites like Yelp, CitySearch, etc you should definitely link to them from your website in order to get more comments on those profiles.
Restaurant Website Content
Once you have a good clean website design that utilizes your brand image and includes great photographs you will want to look toward the text content (often referred to as copy). We recommend adding an introduction message describing your business. Letting the visitors know who you are is very important. This will give them insight into what type of business you run, what kind of food you serve, your atmosphere and flavor. Another copy recommendation is to introduce the owner, head chef or staff members with short biographies. This helps to personalize the restaurant and showcase the talent of the staff or the dreams of the owner coming to fruition. Customers often want to know who runs the restaurant. It helps them feel that extra connection to it, knowing who's behind it and why they created it. This in turn helps build a subconscious rapport with your customers and inspires them to repeat business with you.
Social Media Marketing For Restaurants
Social networking is paramount for a good food service business. Whether you are running a catering company, restaurant, cafe, ice cream shop, bakery, etc. you need to have a presence on social media networks such as Facebook and Twitter. Word of mouth is still one of the most successful forms of marketing available. When a person receives an endorsement for a business from someone they know and trust it is a lot more effective than many other forms of advertising. On social networks like Facebook this type of endorsement becomes even easier. You can even include QR code stickers on your doors or windows that will allow users to easily find your Yelp, Facebook or Google profiles to like, share and rate your business. This allows you to convert a happy customer into a positive review immediately.
Thanks for reading, we hope you found this information to be useful. If you have any questions please feel free to give us a call or send an email. We are happy to answer any questions you may have. Our design department has built many websites for restaurants in the Portland, Oregon area and beyond. Our marketing department is also very well versed in social media marketing for restaurants and other food service industries as well as Search Engine Optimization, PPC and other online advertising services.
Tags: Catering, Restaurant, Social Media Marketing, Web Design