Search Engine Placement (SEP)
Premium search engine placement will increase search volume and improve the quality of traffic to your website from the sponsored ads search results. We will place your website directly in front of your buyers on every major search engine. These include Google.com, Yahoo.com, Bing.com, Ask.com, MSN.com, and much more.
SEP Campaigns
We develop customized Google AdWords and Microsoft adCenter campaigns. Our premium search engine placement features your business on every major search engine. We start the placement process with an interview because achieving results starts with a great foundation and a close working relationship. This interview will help us understand your company's goals, target demographic, past experiences, competitive advantages, and your highest profit margin products to maximize your advertising investment. For more information about premium search engine placement please contact us directly using our toll free number or email contact form.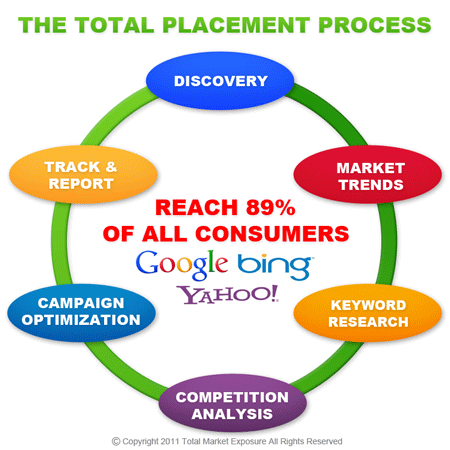 SEP Ad Placement: Our experienced search engine placement professionals perform in-depth market research to ensure your business is featured on the top producing keywords. Our trained placement professionals will place your website on the first page to create an avenue for success. We will place you on the first page in the sponsored ad section and create intuitive alternating ad texts so that buyers searching for your products choose you.
Mobile Browsers: Every SEP campaign we create includes mobile integration. We incorporate all mobile browsers from Android and Apple platform phones to laptops and Ipads. When a customer searches for products and services using their mobile device you need to be directly in front of them. We ensure that happens every time.
Google Ad Extensions: Ad extensions are a great way to increase visibility on the first page. Many popular ad extensions include Google Places ad extensions, phone number ad extensions, site link ad extensions, product ad extensions, and ad text extensions. We guarantee that your business information including your name, phone number, address, and link to your website can be visible in the sponsored ads.
SEP Targeting: Placement targeting includes in depth keyword research to establish what your target keywords are. Targeting the top producing and highest converting keywords is the cornerstone of an effective placement campaign. If your target keywords are too general, your site will see a lot of traffic that does not result in sales. Targeting the correct keywords will dramatically improve the effectiveness and ROI of your placement campaign.
Traffic Reports: Our placement professionals deliver on demand traffic reports so you always know what is going on. Reports include keyword placements, page positioning, impressions, and the number of clicks you have received. We also can incorporate real time tracking and Google Analytics so you can see all of your website traffic.
Conversion Optimization: Every business defines a conversion differently. You might have a sales process that concludes with an order over the phone, on-line purchase, email contact, setting of an appointment or a customized technique that is unique to your business. We understand this fact and we make it easy to track conversions resulting from traffic to your website.
Free No Obligation Consultation
For more information about premium search engine placement please contact us directly.
Mobile & More
Our premium placement campaigns are available for every platform. These include Mobile browsers, Windows, Safari, Google Chrome, Internet Explorer, and many more. We will feature your website on the first page of every major search engine and their respective networks. Our placement professionals will target the most profitable keywords in order to deliver the highest ROI possible. For more information about premium search engine placement please contact us directly using our toll free number or email contact form.