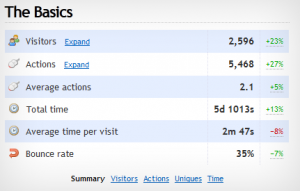 If your business operates online and uses any number of internet advertising services you could benefit greatly from tracking traffic to your website. There are many free systems for tracking including Google Analytics which allows you to monitor traffic to your site and see in depth information such as which pages are visited, how often pages are visited and how users arrive on your website. This information can be invaluable for improving your online presence and capitalizing on what works well, while shedding wasteful efforts that do not perform well. The process can be time consuming and resource intensive. That being said it can often times be better to hire an internet advertising company, like Total Market Exposure, to handle your website tracking and traffic analysis.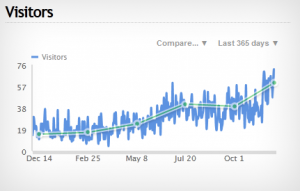 It's important to acquire a good pool of data before attempting to analyze your efforts. To get the best results attempt to spread your marketing out putting roughly the same amount of funds into three or four different marketing strategies. Set goals within your tracking system that will allow you to track where visitors are coming from. For instance if you are advertising on Facebook, it is a good idea to create a customized entrance page. That way when users go from the advertisement or your profile you can track their actions. This is possible with other forms of advertising and marketing including Pay Per Click, Search Engine Optimization and Banner Advertisements. It is very important that you create a method for tracking conversions. Whether a conversion is a lead or a purchase, there needs to be a way to track the amount of total conversions so you can see where the most conversions came from. Also you can choose to include some sort of coupon associated with the source. This is very important for print media and other forms of offline marketing. Once you aggregate a large pool of data over the course of a month or more you can move into analysis mode.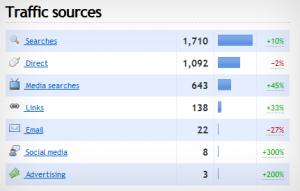 Analyzing Data can be difficult but if you understand your tracking system it is possible to ascertain areas of possible improvement and areas of waste. When analyzing tracking data for clients we usually first look at overall traffic. Did the amount of traffic improve or decrease? Assuming we are using the same budget as before, this can tell us if we moved funds to or from areas which will yield higher ROI. Next we analyze entrance pages and compare that to the amount of funds dedicated to the various forms of marketing. If we find that very few people are coming from one source while another source yields much more traffic, we can clearly see that our efforts were for the most part more successful in that area. Other things to consider are the amount of time users spent on the site, the bounce rate, and average amount of actions per user. If you are getting 200% more traffic but the bounce rate is at 90% you may not be achieving good results through your marketing campaign. After years of internet advertising experience, our team of specialists have learned how to accurately analyze website tracking data.
Once we analyze which forms of advertising performed better than others, we then optimize our campaigns to spend a larger percentage of the ad budget on the more successful forms of marketing. This tends to yield a higher amounts of traffic, a higher percentage of conversions per visitors and ultimately higher ROI. To find out how adding tracking to your website can help to optimize your marketing budget give us a call. We are always happy to answer any of your advertising questions.
Tags: Analytics, marketing, Online Advertising, SEO, Tracking, Web Design