Updated on April 21st, 2015:

Facebook has made another update and now it's even easier to share a post as your business page. Like I said before, "Facebook is constantly making changes" so this should come as no surprise that they've done it again. A few days ago I found an article that I wanted to share, after clicking share, I noticed that Facebook had made yet another update and changed the way you share a post. Below is a screenshot of the new way to share a post as your Facebook business page.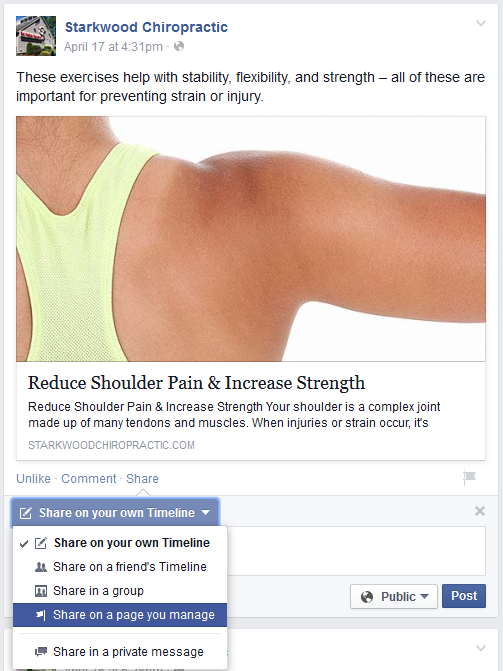 Image courtesy of Starkwood Chiropractic in Portland, Oregon.
Original Article:
At least once a week, someone asks me how to share posts as their Facebook business page. It's actually super easy but I totally understand why so many people don't know how. As you probably already know, Facebook is constantly making changes and updating everything in an attempt to add features they think you want. Many of the updates will go unnoticed but in this case, sharing, commenting and liking posts as your business pages is actually something you do want to do for various reasons.
Why should I share posts as my business page?
Not only is sharing posts as your business page a good way to stimulate cross promotion, but it's also a good way to connect with people who are interested in the same content you are and gain exposure. Before we dive into how to do this, let's talk about another simple tip that will bring more exposure to your page.
Facebook Business Page Tip
If you're a business owner, you're probably very busy and may not have very much time to post on your Facebook business page. One great way to to gain more exposure to posts on your business page is to share them to your personal profile page. First make the post on your business page as your business. Then share it to your personal profile a few hours later. There are several other tips about posting and sharing at peak times that we will talk about in future articles. Until then, post to your business page and share that same post to your personal profile a few hours later. You'll see the increased view count almost immediately.
How to Share Posts as Your Business Page
First, go to the post and click share. You will see where the post is being shared on the upper left hand side. Click on that and you will see a drop down appear. Go down to "On a page you manage" and click on that. Below is an image of what that looks like when you do it.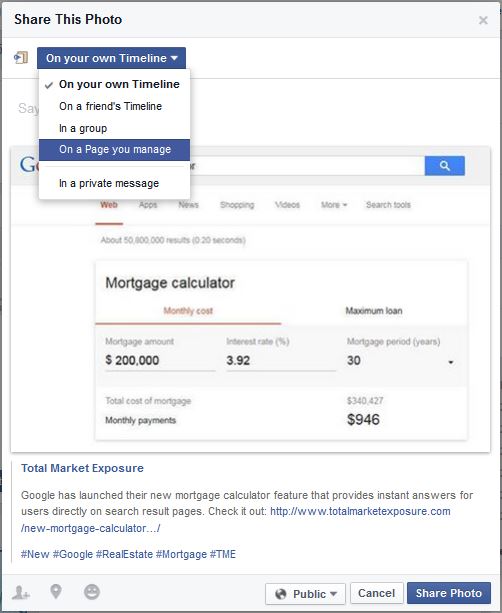 Next you will see another drop down below that contains all the pages you manage. In the image example below it says "Business …" because I created a page called "Business Page" to use in this example. On the right of that you will see "Posting as Business … " so you know that you are posting to your business page as your business. Finally, use the text area to add more relevant content about the post that you are sharing. This is a great way to build value for the post or explain how or why it is relevant to your business page audience.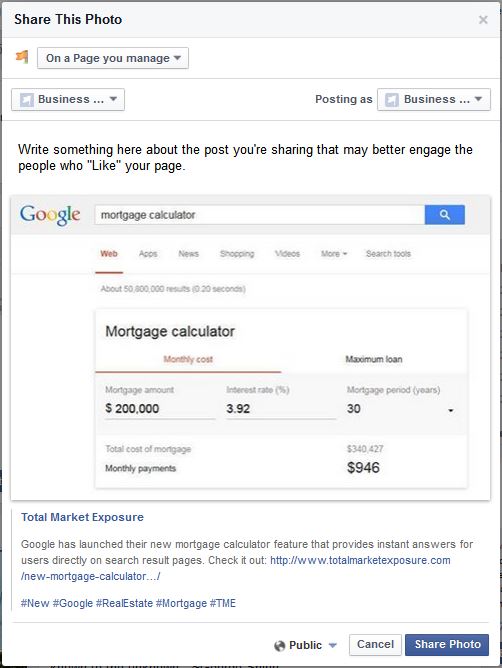 How to Comment or Like a Post as Your Business Page
First, find a relevant post on a worthy business page that you want to like or comment on as your business. On the lower right hand side of the post you will see a small flag. Click on that flag and a drop down of all the pages you own or manage will appear. Next select the page you want to like or comment as and you're done! It's that easy. Below is an image example of these steps.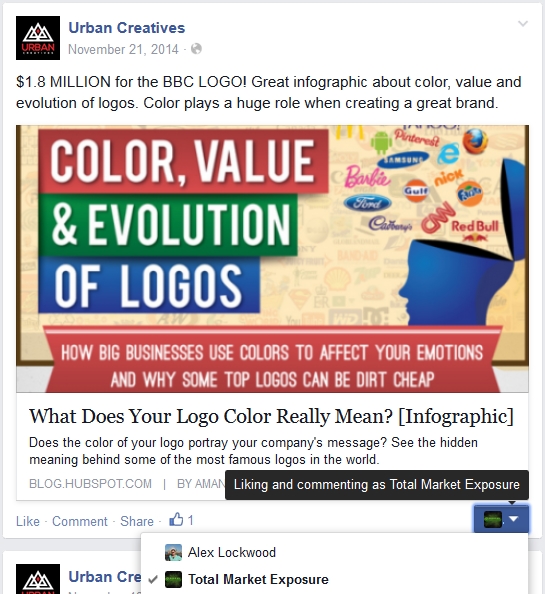 Final Thoughts
That's how easy it is to share a post, like or comment as your business page. These easy steps will increase your exposure without spending a dime. It's also a great way to encourage others to cross promote your posts as well. Try this out and watch the view count rise. Enjoy.
As always, thanks for reading and stay tuned for more tools, tips and updates.
Special thanks to Urban Creatives in Portland, Oregon for posting an awesome article about logo design that was worth sharing. Here is the link to like and follow their Facebook business page, https://www.facebook.com/UrbanCreativesPDX for more great info.
Tags: Business Page, Cross Promotion, Facebook, Facebook Business Page