Google Wallet
Google Wallet, Payments & Much More
Google wallet transforms your smart phone into a secure payment device. Google wallet allows you the ability to "tap and pay" at hundreds of thousands of merchants.

Google Wallet, Payments & Much More
In the past few hundred years, the way we pay has changed just three times—from coins, to paper money, to plastic cards. Now thanks to Google we are on the brink of the next big shift, Google wallet.
Payments, Offers, Loyalty Points, & Much More
Google wallet combines everything form payments, offers, receipts, and loyalty points all the way down to your tickets or airline boarding pass. Imagine a day when loyalty points are automatically applied to your purchase, or coupons come straight from your phone instead of having to clip them. Now imagine that all of those thing and more are all contained on a device you already carry around. Your phone! Eventually your loyalty cards, gift cards, receipts, boarding passes, tickets, even your keys will be seamlessly synced to your Google Wallet. Every offer and loyalty point will be redeemed automatically with a single tap.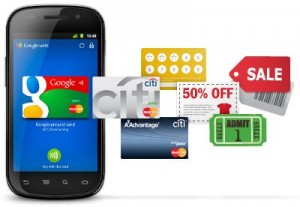 Security-Can You Lock Your Wallet?
You can now! Google Wallet is designed and engineered to enable safe, secure payments. Google Wallet requires you to set up a Google Wallet PIN that must be entered before making a purchase. This PIN prevents unauthorized access and payments via Google Wallet. In fact, Google Wallet's security features go beyond what's possible with traditional wallets and cards. To learn more about Google wallet click here.
What Merchants Are Saying
Tags: Google Wallet, Google Wallet Security, Online Advertising Agency, Online Advertising Rates, Online Marketing Companies, Total Market Exposure