You may have noticed a new change on Google search results pages recently. Known as the Local Carousel this new feature delivers many results in a very small amount of space at the very top of the search results. Packed into that tiny carousel you will see information on several local businesses related to your search query including an image or map location, a "score" based on the quality of reviews found on their Google Plus profile, the number of reviews, the category and price range for the business.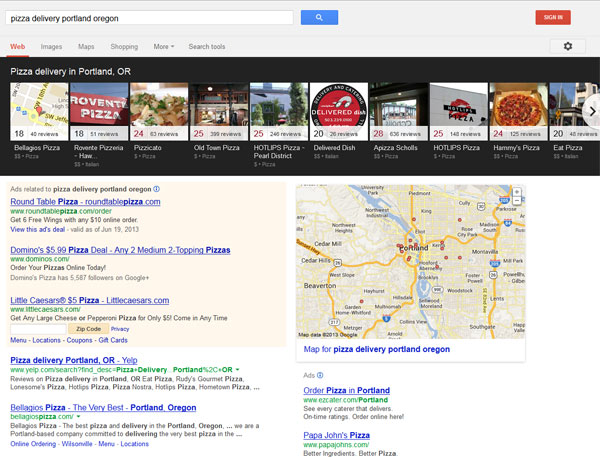 As seen on Search Engine Watch the following infographic shows how the new Local Carousel feature is changing search engine marketing and the activity of users interacting with local business listings on Google. The Local Carousel was officially rolled out mid June of 2013 for all devices and all users in the United States.

After being beta tested in May, the Google Local Carousel has been released to all users in the United States. Google announced the roll out on June 18th and since then, many organizations have ran studies to gain insight into the changes in search activity. Although the Google Local Carousel has been available in browsers used on tablets since December 2012, the carousel results becoming more widely available will result in a much more impactful change in user experience.
Studies have already shown user activity favoring the carousel results with many people preferring the carousel over traditional results because of the presence of user reviews and ratings. As of July, the type of search results displaying the carousel are isolated to food services, lodging, hotels, restaurants, bars, etc. As demand grows for faster, simpler results, we will likely see the carousel expand to encompass most local businesses.
How does it work? It's quite simple actually. When a user performs a search for local results, such as a motel or a cafe, instead of the traditional search results most users are familiar with, there is now a large carousel at the top of the page. This carousel features thumbnails or maps icons, ratings, as well as the number of Google+ reviews. Users can scroll through the carousel listings to see more results. Many of the early studies show that the first carousel result receives a majority of the clicks within the carousel. Users have also reported the preference for carousels over traditional results because of the abundance of valuable information in such a simple format. User reviews, ratings, location, and the business name are all readily available for quick decision makers looking to go with the tried and true option.
What does this mean for you? Getting user reviews on your Google profile is now more important than ever. Don't think for one minute that because you aren't in the food service industry that this doesn't apply to your business. Being one step ahead of your competitors is the name of the game and having good quality ratings and reviews on your Google business profile is going to become increasingly important. It is already a major factor for many customers doing research online, and it will only continue to grow in importance. One additional benefit of inclusion on the carousel is the added exposure you get being so high up on the page. Instead of possibly being left off map results or being found on the second page of search results, you are now more likely to be at the top of the page with the rest of the carousel results. Big bonus!
Thumbnails for Google+ business profiles are now much more important. Choose a thumbnail that shows customers who you are, where you are or how good you are. Default thumbnails include the location of your business on Google Maps. While this is not an awful option, you want to stand out and build brand awareness with your premium position. Including your logo or a clear picture of your storefront would be among your best options for a Google+ thumbnail. Unfortunately you might not have the choice, as Google's algorithm will decide which photo to use. Google does suggest that you use large, high quality images for your business profile. This may be an indicator of their preferences for which file to use.
For more information about acquiring good quality user reviews, please contact us and we will answer all your questions. Thank you for reading, we hope you found this post to be informative and helpful. Come back soon for more information on Google updates and the Local Carousel.