Facebook vs. LinkedIn
Social Networking
Social networking is no longer just a site for internet users to socialize on, but has quickly developed into a online business networking and advertising platform. With LinkedIn having 120 million members and Facebook in the lead with 750 million, it is obvious that social networking has now become part of the web experience much like the search engines.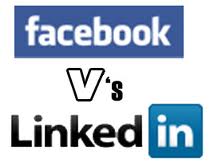 Facebook Or LinkedIn Better For Business?
There is the common misconception that Facebook is made up of flaky teens, where LinkedIn is for business professionals only. Facts are that between the two networks the average age for Facebook members is 38 where LinkedIn is 40. So which network is better for business? Facebook allows a business the opportunity to showcase products and services by having a business Facebook page that members can "like" giving you the ability to retain and build a loyal repeat customer base. Facebook also allows a business to do advertising, and because of the information users provide, you have the ability to target a specific demographic resulting in a cost effective marketing solution.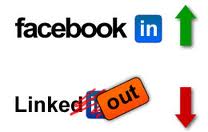 LinkedIn is a very bland and "boring" version of Facebook with half the functionality. While you still have the ability to do advertising, your ad will only be seen in front of 120 million other business owners just like you. While Facebook is focused on conversions, branding, retaining traffic, ad targeting, tracking, and lead capturing call to action forms, LinkedIn is  focused on business owners networking with business owners. Basically you get a profile and an area to put information about what you do. You may get referrals and achieve engaging conversations learning about each others business, but as far as receiving an increase in your business in any aspect… LinkedIn is not your answer.
Tags: Facebook Ads, Facebook Advertising, Facebook Advertising Cost, Facebook Advetising Costs, LinkedIn Advertising, LinkedIn Advertising Costs, Online Advertising Agency, Online Advertising Rates, Online Marketing Companies