Everyme App: The Contact Organizer
While Facebook's active user base grows everyday, many of us are becoming more reserved in our social circles, and when I say social circles we aren't talking about the "Ghost Town" formerly known as Google+. We're talking about real social circles comprised of our old and new friends, friends from school and friends from work, friends you like and that annoying friend you never invite or try to avoid at all costs. We all have them and that's where the Everyme app comes in!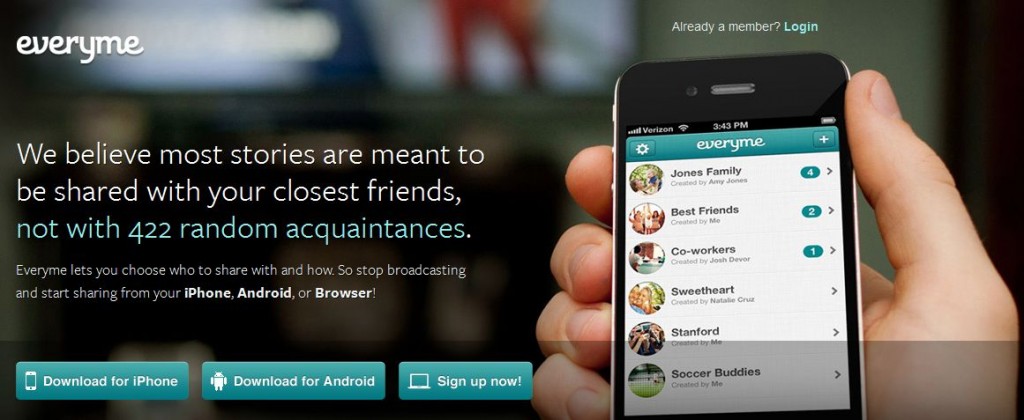 What is Everyme?
Everyme is a social media app that allows you to communicate with specific groups of friends or family privately. On the Everyme's official website they state "you will be entering a sharing atmosphere of complete privacy." With the Everyme app, there is no public sharing options so you will never have to worry about those crazy photos or off the wall comments offending someone or ending up in the wrong hands. In fact, when you download the app it will ask you if you use any other social media services and above the 3 options available (Facebook, Twitter and LinkedIn) it reads "Everyme uses these services to help create Magic Circles and Magic Stories. We don't post anything!" It then asks you to enter your phone number and email, at which point it asks for permission to access your address book to help create Magic Circles. I approved it, because they made me feel all warm and fuzzy by stating that they do not save my information.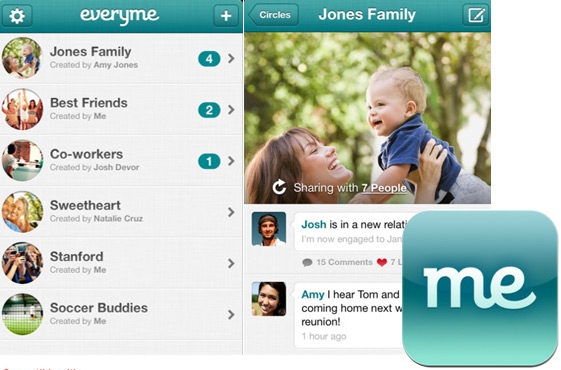 How does Everyme work?
Although Everyme's algorithm is very complex, the functions and the end results are very simple. Everyme uses a complex formula and a series of algorithms that scan your phone's and/or social media contacts, and then organizes them into groups such as family, friends, co-workers etc. It organizes these groups and creates editable circles automatically with surprising accuracy. Everyme seems to actually understand the relationships you have by scanning your contacts/lists. It didn't put everyone in one group, but everyone it did select for a group was 100% accurate. I did have to add a few people to different groups but I didn't have to remove any that it automatically selected. Very impressive if you ask me. Everyme uses the massive power of the "cloud" to process information so you get the results in seconds. The complex algorithm that Everyme uses for their service services could not be provided without the use of Cloud Computing from Amazon Web Services (AWS).

What about my privacy?
Great question. Everyme repeatedly states that the information including your contact lists will not be stored or shared. All the content shared on Everyme is self contained so that your stories, photos, and files that you post to Everyme cannot be republished on other social media sites like Facebook. There isn't even an option for public sharing, so all of the posts shared by you through Everyme, go directly to the people within the specified circles. Because Everyme is integrated with Facebook you can share a Facebook status update with your Everyme circles or contacts through Everyme but you cannot share an Everyme story on Facebook.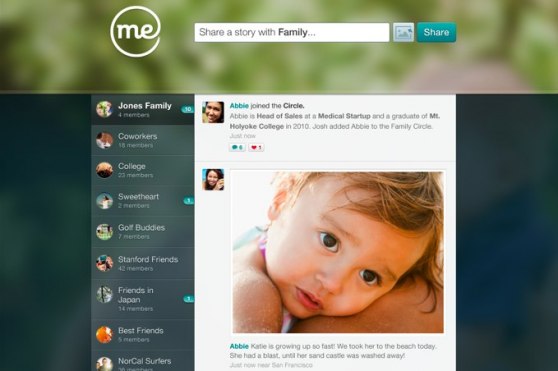 Where did Everyme come form?
Everyme launched in April 2012 and has already reached over 400,000 users! It's no surprise that Everyme has taken off so rapidly because Everyme was able to raise $1.5 million in funds back on October 18th, 2011. The seed funding came from many well known Silicon-Valley investors including Andreessen Horowitz, Greylock Partners, SV Angel, CrunchFund, Tencent, Joshua Schachter, Vivi Nevo, Dave Morin and the money helped make Everyme's "Magic Circles" happen.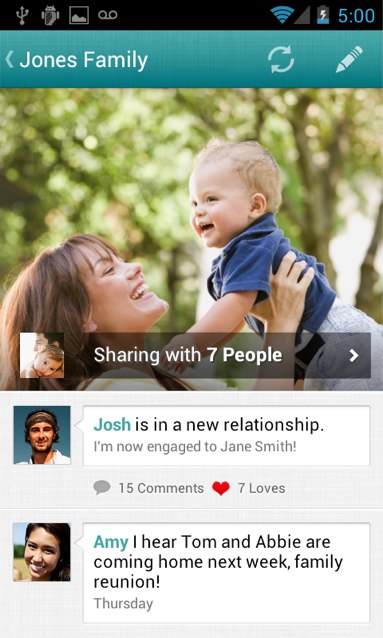 Everyme App Review – My Opinion
I like it and think it's just what the doctor ordered. Social media will always be evolving and now that Facebook has reached over 900 million users there are some group privacy issues that people are running into. I am sure we can all say that we want to share or have shared things we would not want our mother to see. Even small things like my political views are not something I want to share with the world but sharing within a "Magic Circle" is great. I think the public is going to love it, and that belief is supported by the rapid growth rate. I was speaking with a friend/client last week and he said that although he hated Google+ and there is no one using it, he did love the circle concept because he wished he could post things on Facebook and only share it with a select group of people. There are many people out in social media land that are getting tired of censoring themselves, seeing posts they wish they hadn't and/or having someone view their post they wish didn't. Either way the Everyme app takes care of this problem. With the rapid growth rate Everyme is experiencing it will not be long until other social sites are copying their product and Everyme will have to be ready for that. However, if I owned Everyme or if I were an investor, I would be more concerned with Facebook developing an equal to, or superior "circle" sharing solution for their 900+ million users. No matter how popular Everyme becomes is irrelevant to me because you you could still use it even if none of your friends are members. That is the best part for me, a social media app that does not require others to use it in order to operate is genius! I encourage you to check it out for yourself and see what Everyme is all about.
Here is a link to Everyme's website:
www.Everyme.com
Tags: App Review, Everyme