Portland Invitational
Come down to the Rose Quarter from the 11th-14th of August and check out the Dew Tour Invitational in Portland, Oregon. Its the 7th consecutive time it'll be in Portland and will feature some of the Dew Tours top competitors; Kyle Baldock, Bucky Lasek, Jamie Bestwick, and many many others.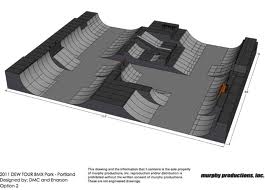 On the Top
Following the Dew Tour Open in Ocean City, the competitors will need to continue to preform at there best in order to move on. Currently the leaders in each section are Kyle Baldock for BMX Park, Jamie Bestwick for BMX Vert, and last but certainly not least Bucky Lasek for Skateboard Vert. So far each of these competitors are on the top standings with great scores and are expected to do well here in Portland.
Dew Tour '11 Top Competitors
Jamie Bestwick: Jamie first achieved BMX success when he placed 3rd in his first X Games in '96, since then he has been a force to be reckoned with. In '05 he was untouchable winning each and every competition he entered, including the '05 Dew Tour. His success continued as gained his 5th consecutive Dew Tour in '09 and his 3rd consecutive X Games in the same year . For that Jamie Bestwick is truely a BMX legend.
Bucky Lasek: Bucky Lasek is among the top best skater in the nation, even the world. Bucky began his skate at the age of 12 when he received his first board under the Christmas tree. Since then the King of Dew Tour Vert has seen undisputed success. He first saw success in '88 when he was feature in the Bones Brigade, Public Domain. This life long competitor has take home countless Dew Tours, bags of X Games gold medals, and loads of other competitions. For a man thats been skating for the last +20 years, hes still got, and is on track to do well in Portland.
Kyle Baldock: At 20 this Aussie has become a man of great promise. For period of about five months Kyle rode with some of the best rider, landing some the major tricks. Although this is Kyle's first Dew Tour he sure to do well both here in Portland and the rest of the competition. He is also set to make his first X Games appearance later this year.
Dew Tour Event

The Dew Tour Events will start off on Thursday August 11th at 11:30am with the Skateboard Street Qualifier. Events will continue through the day and will end at 9:00pm with Skateboard Street Prelims. Events will continue throughout the rest of the weekend. Events include a Live concert on Friday starting at 9:00pm which will be put on by WHOOZ NXT featuring many local talents, and will also include Festival Village Open where you hangout, enjoy the weather, & meet some of the riders.

Tickets: are available on line through allisports.com & comcasttix.com
Event Sponsorships
Total Market Exposure sponsors several event, local charities and international organizations. If you have an upcoming event, charity group or non-profit that would like sponsorship please contact us directly to discuss all the available options. We are a full service marketing solution. Our comprehensive advertising strategies will increase brand awareness and help your business grow.
Tags: Dew Tour '11 Top Competitors, Dew Tour Competitors, Dew Tour Invitational in Portland Oregon, Dew Tour Invitational Portland Oregon, Dew Tour Portland Oregon, Dew Tour Top Competitors, Online Advertising Agency, Online Advertising Rates, Online Marketing Companies, Portland Dew Tour, Portland Dew Tour Invitational