Big News For Pinterest Users!
Pinterest New Terms & Conditions
The latest contender in the social media market, Pinterest, must have heard the uproar of their users over it's Terms & Conditions because they recently updated them. If you weren't aware of the situation, the campaign against their T&C was nearly as popular as the site itself. The liability they put on it's users was unheard of. It included everything from court fees if they get sued and agreeing that anything and everything that you post belongs to you, the user. Frankly as a social media site, that would be impossible. So in the end they fixed the Terms & Conditions issue and we can all start pinning again!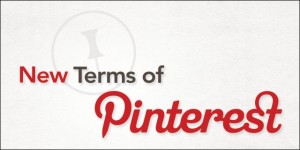 What is new about Pinterest Terms & Conditions?
First and foremost the language is now in laymen terms and not technical legal verbiage. Now all users can actually understand exactly what it is that they are agreeing to before using Pinterest. Under the conditions of their old T&C you had to agree that you were the owner of everything that you "Pinned," and gave Pinterest the right to sell your content. Pinterest commented about that aspect of their old Terms saying: "Our original Terms stated that by posting content to Pinterest you grant Pinterest the right for us to sell your content. Selling content was never our intention and we removed this from our updated Terms." According to Pinterest's New Terms & Conditions you do not have to agree that you are the owner of the "Pinned" content. However you do have to agree that you will not "Pin" and or "Re-Pin" any content that has copyright protection: "contains any information or content that you do not have a right to make available under any law or under contractual or fiduciary relationships, or is fraudulent, false misleading, or deceptive." You also are asked to report any copyright infringements, which they have now made very easy to do, this is a part of their "Pin Etiquette" in which you agree to.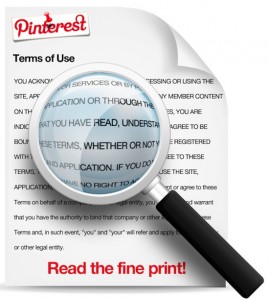 What didn't change with Pinterest's New Terms & Conditions?
You are still liable for your use of the site and your user content. "PINTEREST takes no responsibility and assumes no liability for any User Content that you or any other User or third party posts or sends over the Service. You are solely responsible for your User Content and the consequences of posting or publishing it…" which is only smart business on their part. It's their Privacy Policy that need to be aware of. It states "You understand that by using the Service you consent to the collection, use and disclosure of your personally identifiable information and aggregate data as set forth in our Privacy Policy, and to have your Personally Identifiable Information collected, used, transferred to and processed in the United States." In short yes they are collecting your information and may use and/or give it to their affiliates. If you read in full they continue on to say they "may share aggregated information that does not include Personal Information and we may otherwise disclose Non-Identifying Information and Log Data with third parties for industry analysis, demographic profiling and other purposes."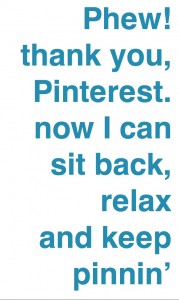 Will we use Pinterest Now?
Absolutely! Pinterest's new Terms and Privacy are understandable from a business perspective. Pinterest is a smart social platform to get involved in, just look at the statistics: 21% of respondents to a recent survey with a Pinterest account have purchased a product after seeing a picture on the site. Pinterest has also proven to significantly increase traffic to business websites. The ability to "Re-Pin" and share the viral content will continue to bring valuable daily visitors. Pinterest New Terms & Conditions are grounds for us to have confidence with pinning in the future. Our exclusive social media marketing campaigns will continue to utilize Pinterest. If you don't understand how to use Pinterest to improve your business that's OK, we're here to help! For more information about Pinterest and social media management call Total Market Exposure.
Tags: Internet Marketing Company, New Pinterest Terms, New Pinterest Terms & Conditions