It's almost the New Year, which means it's time to start thinking about trends and advances that 2014 will present.  Each year Pantone, the global color authority and provider of professional color standards in the design industry, releases the "Color of the year".  In order to arrive at the yearly designated color, they scour the world searching for color trends in the entertainment, fashion and design industries.  This usually includes the hottest new artists, popular travel destinations and films currently in production, among others.  Previous colors of the year include Emerald, Tangerine Tango and Honeysuckle.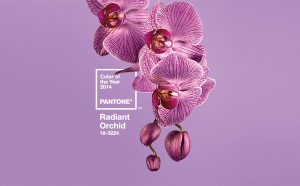 The 2014 Color of the Year is Radiant Orchid.  As Pantone describes it, "Radiant Orchid is an enchanting harmony of fuchsia, purple and pink undertones. It inspires confidence and emanates great joy, love and health. It is a captivating purple, one that draws you in with its beguiling charm."
Pantone's Color of the Year extends throughout the design world into fashion, interiors, beauty and much more. It's also important for the web design industry as it typically becomes a widely popular choice for websites, including accents, graphics and even as a main color option.
When working with a color as vibrant as Radiant Orchid, it's important to understand which colors complement it well from a design aspect.  Fortunately, this color works well with a vast number of other shades and tones.  It pairs well with its sister shades of purple, lavender and pink.  For a rich, robust color scheme, Radiant Orchid matches up nicely with olive and deeper hunter green colors.  It even pains well with turquoise, teal and light yellows.  If you're looking for an eye catching accent color, pair Radiant Orchid with grays, beige or taupe colors.
As with any color, it's important to use it wisely.  Try not to overuse it and make sure the accompanying colors are coordinated properly.
The Hex code for html use is #B163A3.