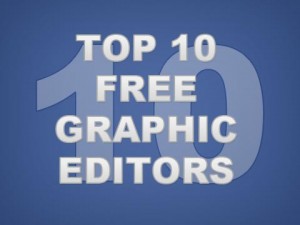 The industry of creative software is a huge one and creates billions of dollars as a by-product through film, video and web ventures. Accordingly the pricing of the software can be very high. So, where does this leave the freelancer or small business owner in need of graphic or video editing? Moreover, where does this leave the amateur or hobbyist who enjoys being creative and sharing art or media with friends or family, or just personal use? Here is a small list comprised of some of the most notable and best freely available graphic editing software currently available. This is not a full list by any means, and is the opinion of the author based on personal use, and statistics. Try them out for yourself to see if they are a viable alternative to commercial packages. This is in no specific order.

Blender is a freeware open-source 3D Content creation program suite developed and released under the GNU General Public License for all major operating systems. Blender supports all the major 3D program functions, so it's a great alternative for freelancers and 3D Graphic editing enthusiasts. Modeling functions include polygons and NURBS. Rigging features include vertex weighting and automatic skinning. Render options include ray-tracing and texture baking. The animation tools include IK/FK and blend-shapes. There are also many tools for UV unwrapping, Texturing/Shading as well as Physics/Particles Systems, Imaging and Compositing tools and functions for Real-time 3D and Game Engine content creation.

XnView is a freeware digital photography editing applications that give you a lot of control in a very small hard drive footprint. It's very similar to IrfanView, another popular viewer and converter for images. XnView is fast and can access EXIF information helping for easy categorization. Along with supporting lots of image file types, it crops, filters, it does red-eye reduction and creates slide-shows. XnView is a great choice for noncommercial graphic editing software.

Cinefx (formerly Jahshaka) is a multiplatform suite of digital content creation apps. Cineplay is an all-in-one viewing program. Cinecode is an offline encoding app, converting most file formats to flash thru drag-n-drop. Cinefx is an offline FX and editing tools, allowing real-time work on video formats. The project has not shown much life over the last year or so, leading many to speculate that the project may be discontinued.

Inkscape is an open-source SVG graphic editor much like what you would see from the commercial software Adobe Illustrator. SVG (Scalable Vector Graphics) is most commonly referred to simply as vector art. Inkscape like Blender is released under the GPL GNU, meaning that it is free for both use and distribution for private and commercial projects. While its tool-set does not offer the full feature list of rival commercial software, it covers all of the most important basic and intermediate functions, and the tool-set is continuously being updated thanks to it being an open-source graphics application.

Gimp is another GNU released graphic editor that is often discussed as a competitor to Adobes Photoshop. While this idea may not be wholly accurate. Gimp is a highly sophisticated and feature heavy graphic editing app. Its feature set includes layers, cloning, paths, color correction and mixing. Again, this is a perfect tool for freelancers or budget-conscious businesses. Gimp can be your raster graphic editor complimenting your vector work with Inkscape.

Picasa is another graphic editing app specifically made for digital photos and is currently owned by Google. When Google acquired Picasa in 2004 they began offering it as a free download. Picasa has a unique tagging featuring which can be built-in to JPEG images, allowing for easy searching and cataloging. It also has the ability to write geographic coordinate EXIF metadata, this used to require a Google Earth installation, but is no longer required after version 3.5, making use of the Google Maps component. Picasa Web Albums is a sister program for on-line image storage.

Paint.NET is a freeware former Washington State University project which bases its name and architecture on the .NET Framework from Microsoft. It is a powerful Microsoft Paint replacement graphic editing application and fully supports 64-bit processors. It includes all the standard features you would expect from a commercial app like layers and effects, as well as a virtually unlimited history feature (based on hard drive space). It also boasts a robust user community full of helpful forum members and tutorials.

Terragen and Terragen 2 are deep 3d terrain generation programs and editors featuring a muscular render system that produce images and animations used in films and game productions, including Star Trek Nemesis, The Golden Compass, Letters from Iwo Jima and many many more . It's ability to import DEM (Digital Elevation Models) of real locations is helpful in rendering 3D versions of specific international natural landmarks. Terragen 2 introduced the additions of moons, stars, foliage and more complex settings and tools for clouds, camera pathing and water, in addition to many tweaks and upgrades to the landscape generation and editing tools. Terragen 2 is also commercial software.

SketchUp is another Google acquisition. SketchUp is best described as 3D modeling program in the vein of CAD. It is therefore most useful to civil engineers and architects, however it has found practical application in the production pipelines of major films and games due to its ability to rapidly prototype architectural layouts. The 3D Warehouse is a great resource of previously created models contributed by members of the community. It has a patented Push/Pull technology for easy shaping of 3D objects somewhat comparable to polygon extrusion techniques found in major 3D modeling packages. To receive advanced features a pay version must be purchased.

Project Dogwaffle is a raster-based graphic editing software that features simple animation tools. The free version of the software is fully functional, although several years old now, only missing some advanced layer and scripting feature from the full version. The tool-set for animations include time-lines, key-frames, animated brushes and exposure sheets, with an interface that has pull-downs, re-timing tools and a batch processor. There are many plug-ins for the program, expanding its functionality beyond the basic functions of the free version.
Tags: Free Graphic Editors, Graphics Editing Software, Top 10 Free Programs