Search Engine Optimization (SEO)
Search Engine Optimization (SEO) is the process of raising organic page position, increasing search volume and improving the quality of traffic to your website from the "organic" search results. SEO improves your website's page position in the organic results of every major search engine. Our SEO services are compatible with all major search engines including Google, Yahoo and Bing.
Why Do I Need SEO?
SEO improves page position, search volume, new client inquiries, customer loyalty, and increases your overall ROI. Since internet users generally trust the natural results more than then sponsored listings, appearing on the first page organically is essential. If a previous customer does not find your website when they search for the services you provide, they are likely to buy from your competitor who does appear organically on the first page. For more information about SEO please contact us directly using our toll free number or email contact form.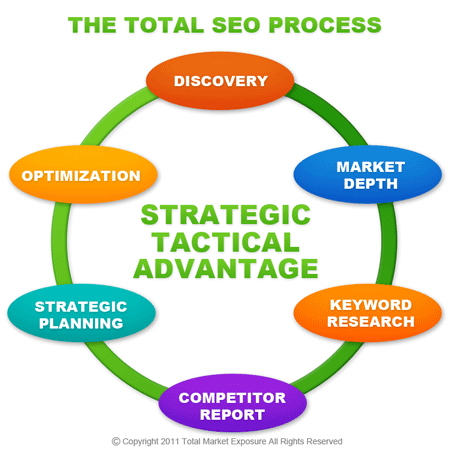 Measurable Results
Our comprehensive SEO packages are designed to deliver our clients maximum value, measurable results and a higher ROI. Total Market Exposure's SEO professionals will perform an initial interview with you where we discuss the business goals, products and services in order to determine what keywords to target within the SEO campaign. As the SEO campaign progresses we will deliver itemized reports that clearly show all work completed, keyword rank improvement and all other vital statistics.
Local SEO: Local SEO is a great way to increase business and build a repeat customer base within all local service areas. We guarantee that the company's information including name, phone number, address, link to your website, and business description will be found on over 100 local directories. These include Google Places, Google Maps, Yelp, CitySearch, MerchantCircle, dexknows, Yellow Pages, Yahoo Local, Super Pages, On Star, and many more.
National & International SEO: National and international SEO will improve organic keyword ranking on target keywords that do not include a geographic area name or location within the search query. Our national and international SEO specialists will perform in-depth market research to identify the top competitors, market depth, and recommended target keywords.
Free Promotional Websites: Many of our SEO packages include promotional websites to assist in improving organic page position. Promotional websites provide search engines with relevant information about the products and services you offer. This verifies that you are who you say you are and that you are advertising what you are selling.
SEO Keyword Targeting: Our experienced SEO professionals will perform an initial interview with you where we discuss your business goals, products and services in order to determine what keywords to target within the SEO campaign. Knowing what the correct keywords to target are will dramatically improve the effectiveness and ROI of the SEO campaign.
Conversion Optimization: Every business defines a conversion differently. You might have a sales process that concludes with an order over the phone, on-line purchase, email contact, setting of an appointment or a customized technique that is unique to your business. We understand this important fact and we make it easy to track conversions resulting from traffic to your website.
Reputation Management: Reputation management is one of the most valuable services we offer. A positive online reputation can increase sales, improve conversion rates, promote brand awareness, and motivate potential customers to buy from you over the competition. When a potential customer finds negative information on the first page while researching your business it can result in a substantial decline in conversions. We utilize positive SEO techniques to make sure that your clientele find the positive reviews and information about your company. Our reputation management is effective on every major search engine.
Email Marketing: Email Marketing is a proven strategy for keeping your clients informed about your products and services and keeping in contact with them. We provide premium email marketing that can be utilized for monthly newsletters, special announcement, flyers, coupons, customer surveys, online reputation management, and much more.
Free No Obligation Consultations
For more information about SEO please contact us directly.
Trackable Results
We incorporate sophisticated real time tracking systems, Google Analytics, and webmaster tools within our SEO campaigns. This allows us to monitor what keywords the website is ranking on, how customers found you and what keywords are delivering converting traffic. The information gathered helps identify what is working and what is not. Our tracking shows you exactly how visitors found you, what actions they performed once on the website, how long they looked at specific pages, and much more. The keyword rank reports show you where the website ranks on target keywords in your market. Please contact Total Market Exposure directly for a free website analysis and for more information about how we will earn your business every month with our comprehensive SEO services.