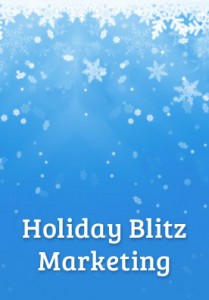 There are many ways to make a big impact on your year end sales totals through online holiday blitz marketing tactics. Some require a bit more work, while others are actually quite simple. The bottom line is that you have a lot of competition during the holidays. All the big companies are going to saturate the many advertising outlets both online, on television and other mediums. Online search engine placement will be saturated with eCommerce stores attempting to make a big push before the end of the year. Other internet marketing tactics such as SEO do not have an instant impact and therefore are not what you are looking for. Below are some suggestions for that last minute Holiday Blitz Marketing.
Coupon Deals
There are many companies that offer "coupon deals" or "daily deals". They typically send out daily emails notifying their subscribers of the deals available to them. This is an excellent way to make a big push for sales during the holidays. Companies often lose money on the coupon deal but by getting customers into the store they end up generating a lot more business than they would have without the coupon. This type of "loss leader" works very well for businesses and it is the main reason why sites like Groupon have become so successful.
Facebook Ads
Facebook is an excellent way to promote a coupon, sale or any other special offering that you may have this holiday season. First you would want to create a coupon tab on your profile that will display a code to use on checkout, or a coupon to print out and use in store. There are other methods for use of coupon such as "Say you found us on Facebook and save $$$". With Facebook advertising you could easily generate a lot of interest. The great thing about Facebook is that the users have already told Facebook (and by proxy you, the advertiser) what there interests are. So you don't have to waste time trying to find people, you can just choose to advertise to people who are interested in what you're selling. If you have never ran a Facebook ad it can be difficult. If you need help, we are here for you. Give us a jingle and see how we can help.
Print Marketing
Depending on your business type and if you actually have a brick and mortar store front, having some flyers or brochures printed out might prove to be a great investment. Door hangers and other types of print marketing materials can easily inform many local customers of your business, your products and/or services. This can take up some time handing these out and going door to door hanging door hangers. You may want to check with local laws to make sure you are not violating any littering statutes by using door hangers or flyers.
Tags: advertising, Holiday Marketing, Oregon, Portland